WINNERS & FINALISTS OF DESIGN FOR ADDITIVE MANUFACTURING CHALLENGE 2020
Winners 2020
During the 8 th edition of the Additive World Conference, Chairman of the Jury, Ultimaker's Steven van de Staak, announced K3D and Younes Chahid as winners of the Additive World Design for Additive Manufacturing Challenge 2020. All finalists, three in the student category and three professionals, pitched their designs in a video for the 6-member jury. After careful deliberation they made a unanimous and well-advised selection in both categories. The winning designs, a 'Laser Welding Head' and a 'Hip Implants Stem Design', are inspiring use cases of industrial 3D metal printing.
The winner of the professional category is K3D of The Netherlands, winning this contest the second year in the row. K3D CTO Jaap Bulsink presented the Laser Welding Head they developed for Hittech Bihca, supplier of precision components. Improved performance, functional integration, conformal cooling channels, light-weighting and optimized local porosities are all features that make this application a clear winner in a tough category this year with some other excellent case studies. The judges felt it refreshing to see that the K3D application made a strong business case and design in a real, industrial application, a category that isn't always well represented in design competitions. This design could not be produced in any other way than additive manufacturing and on top of that it can be printed without any supports in an efficient build setup, Design for Additive Manufacturing at its best.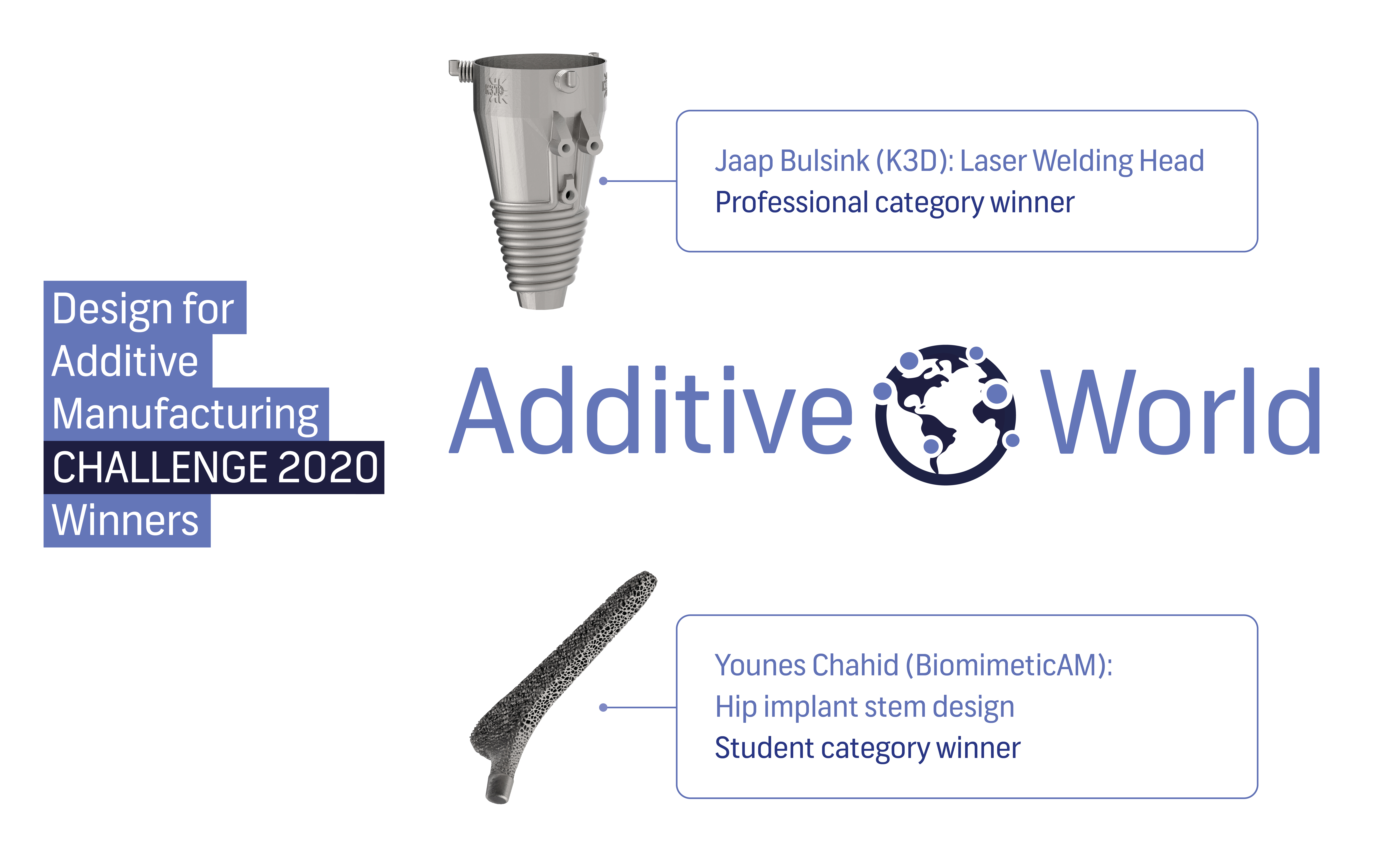 In the student category, the first prize went to Younes Chahid from BiometicAM based in the United Kingdom with his Hip Implant Stem design. This noble and highly functional application improves patients' lives by shortening operation times as well as recovery times. The design of the structure is fully optimized with varying lattice densities and thicknesses for optimal bone ingrowth. Younes's story is complete and told with expertise and passion. The part can only be produced using metal additive manufacturing and in addition, is designed to print without supports, capable for being nested to maximise the total number of parts per build and therefore also lowering the total cost per part to allow for democratising this for patients around the world.
On Thursday, February 20, 2020, Additive Industries announced the finalists of the Additive World Design for Additive Manufacturing Challenge 2020. From a record number of 151 contestants, both professionals and students, 3 finalists were selected per category.
The designs are (from left to right, first top row then bottom):
"Laser welding head" from Jaap Bulsink, K3D Bihca (the Netherlands, professional category)
"Media block" from Nina Uppenkamp, SMS Group (Germany, professional category)
"Expandable intervertebral cage" from Donatien Campion, 3DMedLab (France, professional category)
"Hip Implant Stem Design" from Younes Chahid, BiomimeticAM (UK, student category)
"Stabilizer mount" from Dong Zhang, SCUT Robotlab, (China, student category)
"Brake caliper" from Samir Mulgaonkar, Sunriser (US, student category)
Additive Industries wants to challenge both professional designers and students
In order to raise the number of examples and inspire many other industries to develop dedicated applications for industrial 3D printing, Additive Industries has launched the 5th edition of the Additive World Design for Additive Manufacturing Challenge. Competing in two categories both professional designers & engineers and students are encouraged to take an existing part of a machine or product that is made with conventional technologies today and redesign it for 3D printing. Partners in the Design for Additive Manufacturing Challenge are leading CAE technology provider (e.g. Topology Optimization) - Altair Engineering, a consumer 3D printer manufacturer – Ultimaker, Autodesk - a leader in 3D design, engineering and entertainment software and European Association of the Machine Tool Industries CECIMO. European Association of the Machine Tool Industries, and MakerPoint, provider of the digital fabrication solutions. Just like every year the finalists and winners will take home wonderful prizes such as the software licenses from Altair Engineering and Autodesk, tickets to the Additive World Conference, including the Awards Dinner. The winners additionally will receive the 3D printed Award, the Ultimaker printer (professional: Ultimaker S3; student: Ultimaker 2+) and the starter pack 3D printing from MakerPoint. To find out more about the last year edition of the Design Challenge, the finalists and the winners please go here.
For questions please contact our team via designchallenge@additiveindustries.com or by phone +31 (0) 40 2180660.